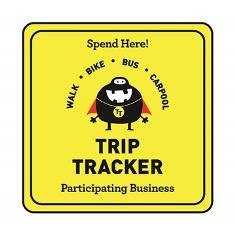 What is Trip Tracker?
Walk, Bus, Bike, Carpool & Earn Tracker Bucks!
Trip Tracker encourages school communities to reduce motor vehicle traffic around schools. When participants carpool, take the bus, bike, or walk to school, they earn Tracker Bucks, which can be spent at participating local businesses.
Register here: https://www.bouldercounty.org/transportation/multimodal/trip-tracker/
Benefits:
Less traffic = safer for students (those who walk and drive to school!)
Increase physical activity! Moving before school wakes students up and gets them ready to learn. Moving after school helps them de-stress.
Reduce pollution around the school
I have to drive my student to school. How can we participate?
If you park just 1-2 blocks from school it is considered a partial trip and you still earn money to spend at participating businesses!
5 one-way trips = $1 Trip Tracker Buck
Depending on the number of school days and number of days you participate, you can earn up to $9 a month to spend at local businesses!
What next?
1. Register here: https://www.bouldercounty.org/transportation/multimodal/trip-tracker/
2. Track your trips (there is a handy sheet you can print out at the link above)
3. Report your trips the first month of each month (October – May)
4. Receive Trip Tracker bucks in your Friday Folder. Starting sometime in October you will receive your first Trip Tracker bucks.
5. Spend – the same link above will have the most up-to-date list of businesses that accept Trip Tracker Bucks.
Is Trip Tracker different from Walk and Roll?
Yes they are 2 different programs, but you can get credit for both! Walk and Roll is a once-a-week program where kids earn tickets for drawings held by Mr. Rehnberg. At the end of the year they get the chance to win a bike! Trip Tracker is everyday and you earn money each month based on your participation. You get credit for both programs on Walk and Roll days if you walk, bike, scooter to school!